Botox Cosmetic and Dysport
Botox® Cosmetic and Dysport® are used to treat moderate to severe frown lines and wrinkles. The procedure is quick and minimally invasive. There is little or no discomfort and no down time!
These treatments work by relaxing the muscles associated with crow's feet, worry lines, frown lines and other dynamic muscles of facial expression. The results are seen within a week and the treatment lasts from 3 to 6 months and can last longer with consistent treatment.
Dermal Fillers (Restylane - Lyft, Silk, Defyne; Kysse; Radiesse; Scuptra; Voluma)
Dermal fillers are used to restore volume and fullness to the skin which creates a more youthful appearance. Dermal fillers are used to correct moderate to severe facial wrinkles and folds. Our highly experienced and trained physicians will help determine which filler is right for you. Results will last 6-12 months or more depending upon the type of filler used. Click here for more information on Sculptra!
Chemical Peels
Chemical peels are used to treat a variety of skin conditions including acne, sun spots, melasma, fine lines/wrinkles, and acne scars. We offer both superficial and medium depth peels depending upon the needs of the patient.
Sclerotherapy
Sclerotherapy is a procedure used to treat spider veins in the legs. The veins are injected with a sclerosing solution, which causes the veins to collapse and fade away.
Microdermabrasion
Microdermabrasion helps improve fine lines and wrinkles, brown spots, clogged pores, superficial acne scars and improves the skin's tone and texture. The procedure utilizes high medical grade micro-crystals that are propelled against the skins surfacing to abrade the skin's tissue. The procedure is quick, relatively painless and results are seen immediate.
Micro-Needling with or without Platelet-Rich Plasma
Micro-needling is a minimally invasive procedure that uses very fine needles to mechanically perforate the outer layers of the skin creating a controlled injury. This causes a natural reaction to produce more collagen in the treated area which firms, thickens and rejuvenates the skin. Micro-needling has been clinically proven to tighten the skin, reduce sun damage, scaring, fine lines and wrinkles and improve enlarged pores. This procedure can be combined with platelet-rich plasma, where your own cells can help stimulate regeneration and improve results. Click here to learn more about the micropen device and micro-needling!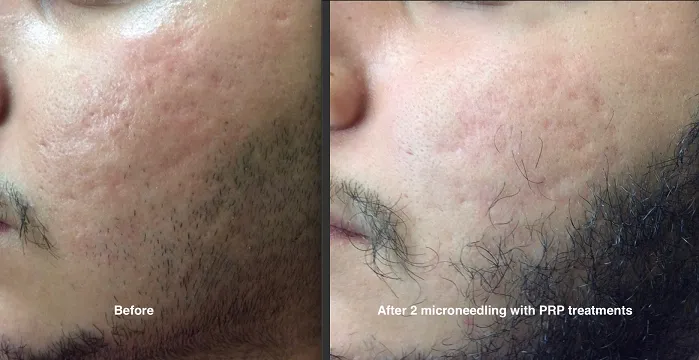 Platelet-Rich Plasma Injections for Hair Loss

Platelet rich plasma injections can help stimulate regrowth of hair loss due to androgenetic alopecia, also known as male or female pattern hair loss. It has been successfully used for some other types of hair loss as well. PRP hair treatment consists of 3 sessions spaced 1 month apart, followed by a maintenance session every 3-6 months. Click here to learn more about PRP injections for hair loss!
Laser Services
Nd:Yag Laser: Useful for treating unwanted tattoos, especially for red and black pigment. This laser can also be used to lighten solar lentigos in fair skinned individuals.

Pulsed-Dye Laser: Used to treat vascular lesions such as port-wine stain birthmarks and angiomas. It is also used to destroy the vascular supply to recalcitrant verrucae.

KTP Laser: Used to treat small (<1mm) diameter blood vessels usually on the face secondary to rosacea or sun damage.

Alexandrite Laser: Used for laser hair reduction. This procedure is most effective on individuals with fair skin and dark hair. It is not indicated for white or grey hairs and must be used cautiously in individuals who have darker skin pigmentation or a tan. Please schedule for a free consultation to see if laser hair reduction would be a good option for you.

IPL (Intense Pulsed Light): This procedure treats entire areas, such as the face, chest or hands to decrease redness, telangiectasia (small blood vessels) and solar lentigos. It is usually done as a series of 3-5 treatments over a period of months to gradually reduce these issues. It is often used to treat rosacea and sun damage.

EXTRAC® Excimer Laser: This is a narrow band UVB treatment for localized plaque psoriasis, such as cosmetically distressful lesions on the hands, face, scalp or other areas. It can also be used to help repigment localized areas of vitiligo. This laser requires twice weekly treatments for several months.
glo minerals®
We offer an array of glo mineral® products, an award-winning makeup and skincare line for every skin type. The pharmaceutical-grade ingredients are talc-free and help to nourish and protect your skin. Our aesthetician can guide you on color and product selection with a complimentary consultation.